Page 6
Please note: Woodworking is an inherently dangerous activity. The non-woodworking techniques described here aren't all that safe, either. Sharp tools, powerful motors, big lumps of wood, chemicals, fumes, etc. can cause you serious bodily injury or even death. These pages are NOT meant as a substitute for instruction by a qualified teacher, just as an illustration of how I do certain things. I take no responsibility for any mishaps you may experience during a fit of inspiration. You've been warned.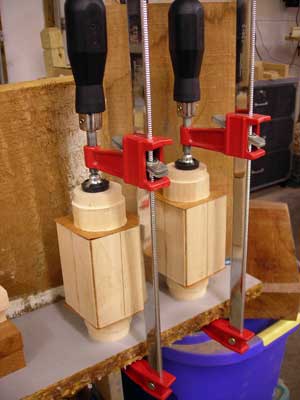 Photo 20
The nose and tail blocks, with their veneer separators, clamped up.
Steampunk Still Life (2011)
The resulting rocket. Maple, mahogany, butternut and walnut, with brass. About 8" L x 6" H x 6" W.
Page last updated 14 December 2011