Page 5
Please note: Woodworking is an inherently dangerous activity. The non-woodworking techniques described here aren't all that safe, either. Sharp tools, powerful motors, big lumps of wood, chemicals, fumes, etc. can cause you serious bodily injury or even death. These pages are NOT meant as a substitute for instruction by a qualified teacher, just as an illustration of how I do certain things. I take no responsibility for any mishaps you may experience during a fit of inspiration. You've been warned.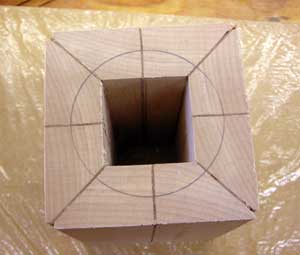 Photo 16
This is the end view of the staved rocket body. Instead of the octagonal hole I would have if I'd mitered all the staves at 22.5 degrees, my 45 and 90 degree joints mean I have a square central hole. That may make this staving technique unsuitable for some projects, but it works well here.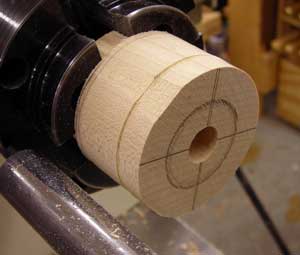 Photo 17
I used solid maple blocks for the nose and tail sections of the rockets. I drilled a 1/2" diameter hole about 1/4" deep on center in both ends of the tail block, and in what would be the interior end of the nose block (shown in the picture). I then turned the blocks round and mounted them in my scroll chuck to turn a short tenon that will fit snugly into the square hole in my staved rocket body. The circle is the rough diameter of my tenon.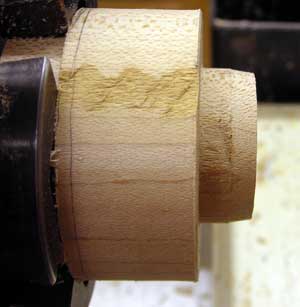 Photo 18
Fitting the tenon is a trial and error process: turn a little, test, turn a little more, test. It's CRITICAL that the shoulder of the tenon is flat and square to the tenon, or the joint between the block and the body won't hold.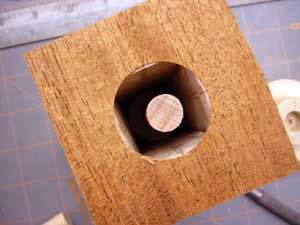 Photo 19
Once the nose and tail tenons were set, I cut holes just larger than the tenons into squares of mahogany veneer. These veneer squares go between teh blocks and the staved body. And now the purpose of the 1/2" holes in the tenons becomes clear: I glued in a 1/2" diameter dowel to tie the nose and tail blocks together. The veneer is face grain, mated to the end grain of the staved body and the nose and tail blocks. I don't expect a lot of wood movemnet in such a small surface area, but there could be some. The dowel and tenons will help to keep everything together.
Page last updated 14 December 2011