Page 4
Please note: Woodworking is an inherently dangerous activity. The non-woodworking techniques described here aren't all that safe, either. Sharp tools, powerful motors, big lumps of wood, chemicals, fumes, etc. can cause you serious bodily injury or even death. These pages are NOT meant as a substitute for instruction by a qualified teacher, just as an illustration of how I do certain things. I take no responsibility for any mishaps you may experience during a fit of inspiration. You've been warned.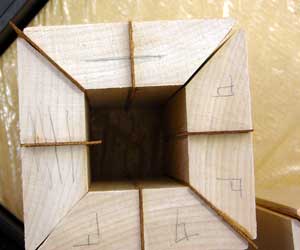 Photo 13
The two half-body sections were slightly off after gluing, so it was back to the granite block and sandpaper.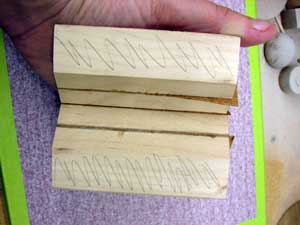 Photo 14
Again, I used pencil to mark the faces and sanded them flat on a sheet of sandpaper taped securely to my granite block.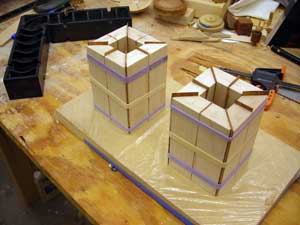 Photo 15
Once the two halves were flat and square, I glued them up with the veneer. I used rubber bands to clamp the joints this time, since I had a square form.
Note that there are two blanks in this picture. Given how time consuming it is to make one of these blanks, I made several at the same time. In the worst case, I don't have to start over from scratch if I have a problem with one blank. In the best case, I can use the spare blank to make a second version of the rocket.
Page last updated 14 December 2011