Page 2
Please note: Woodworking is an inherently dangerous activity. The non-woodworking techniques described here aren't all that safe, either. Sharp tools, powerful motors, big lumps of wood, chemicals, fumes, etc. can cause you serious bodily injury or even death. These pages are NOT meant as a substitute for instruction by a qualified teacher, just as an illustration of how I do certain things. I take no responsibility for any mishaps you may experience during a fit of inspiration. You've been warned.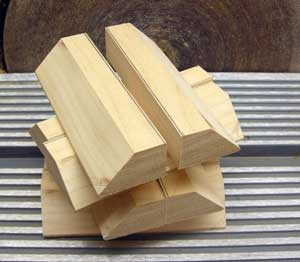 Photo 5
And here are the eight staves. I drew straight lines parallel to the long edges and the same distance in from each edge, then used my bandsaw to cut the maple blocks in half, lengthwise, between the two lines. I used my stationary disc sander to sand off the saw marks and square up the edges.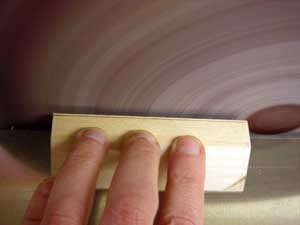 Photo 6
This is a closeup of the disc sanding process. It's extremely important to make sure the sander's table is square to the disc. Even after that, the disc itself may not be perfectly true, resulting in dips or bows in the square edge. That was the case here, so I ended up doing the bulk of the sanding on the disc sander, then taking the staves back to the granite block to finish truing up.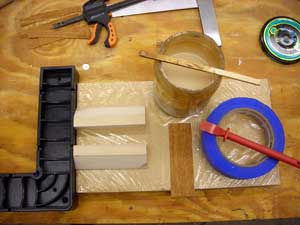 Photo 7
Once all the edges have been sanded flat and straight, the rocket body is ready to be assembled. This is the set-up I used for the assembly. In this case, all the staves have a piece of mahogany veneer between them. I used a flat piece of MDF wrapped in plastic wrap so glue wouldn't stick to it and a plastic block that acted as a reference for one edge of the glue-up. I used cold-cure veneer glue and a glue spreader to get an even coating with a reasonable open time, and low-tack masking tape to hold the staves together while the glue cured.
To reduce the risk of misalignment in the finished body, I did this part of the assembly two staves at a time.
Page last updated 14 December 2011